SAAB 96, the quintessential SAAB

Quintessence: The pure, highly concentrated essence of a thing. (In this case, a SAAB). With three cylinder two stroke and V4 engines and a four speed on the column, these cars defined "quirky".

The Bullnose 96 1960-1964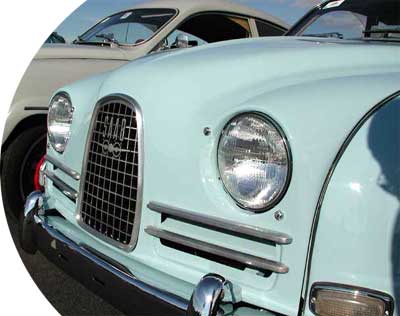 Jim and Meg Hutchings' beautiful 1963 96 restoration as presented at the 2003 SAAB Owners' Convention (SOC03) in Hershey, PA, USA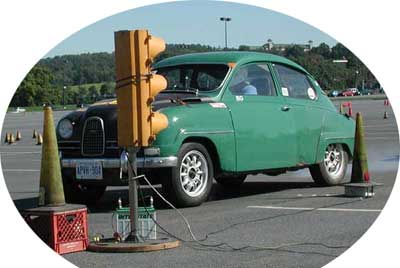 Mikael Hemmingsen's outrageous rally 96 doing a "smokeout" at the SOC03 autocross. Mikael forwarded some details on this car, described by Bruce Turk as the fastest stroker he's ever driven:

Green Rally car:
1963 model, 80 hp 940 cc engine with Lancia carburetor, 6:35 special II 4-sp gearbox with LSD. V4 brakes and driveshafts. Bilstein rally shocks, cage, skidplate, 95 rear axle (stronger), chassis reinforced according to Saab S&R. Corbeau seats with Britax belts. Halda tripmaster, Swedish pro rally logbook.
Unrestored original car with contemporary equipment.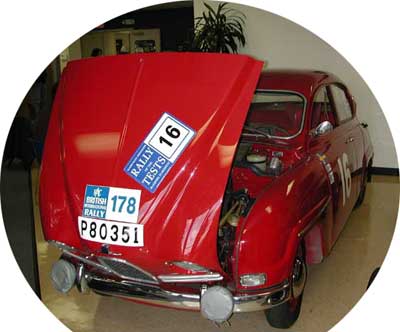 1960 rally car in the lobby at Saab's national training center at Wallingford, CT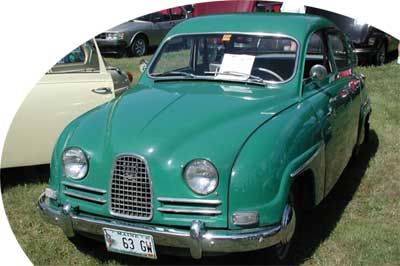 Mike St. Pierre's beautiful '63 at the 2000 Saab Owner's Convention (SOC00) in Kerhonkson, NY.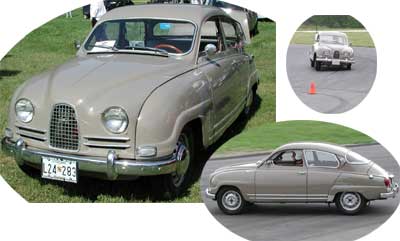 Don Wollum's '64 at SOC00 and and autocrossing at Lime Rock Park.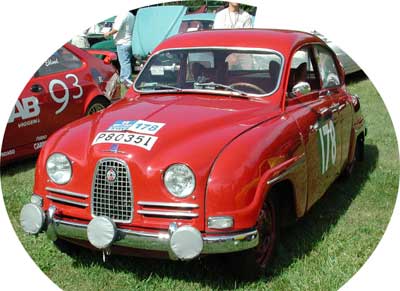 Eric Johnson's serendipitous discovery was the proverbial "barn car". An original works rally car driven by Erik Carlsson in the early 60's and restored by Eric to competition form.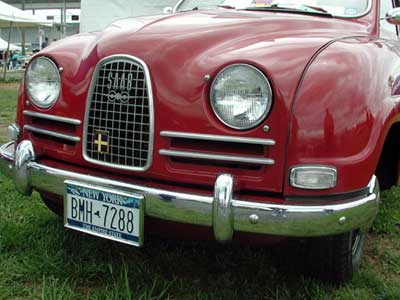 Dr. Bob Abel's spectacular '64 GT-850 at Carlisle 2002.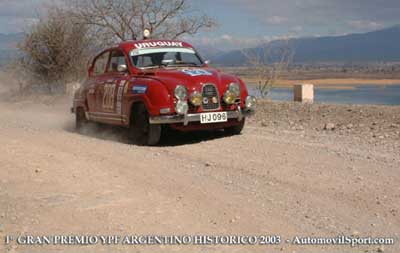 2003 Historic Grand Prix, Argentina.
Albert Domingo wrote from Uruguay:

Date: Wed, 23 Jun 2004 19:36:17 -0300
From: Alberto Domingo
Subject: Nuestros SAAB

Muchas gracias por publicar la foto de nuestros SAAB y de nuestros amigos. El SAAB Sport 1964 con el N 208 que particip= en el Gran Premio Hist=rico 2003 de Argentina es de mi amigo Jorge Tomasi y quien estaba de copiloto soy yo Alberto Domingo. Somos de Uruguay, y aquf existen varios SAAB de 1964 y de 1965. En el pr=ximo mail enviarT fotos de nuestros SAAB. - Alberto Domingo, albertodomingo@adinet.com.uy, Bvar. Artigas 3548, Montevideo 11700, Uruguay, Tel: 0059822099273
My own translation using (very) rusty Spanish:
Subject: Our SAAB - Many thanks for publishing the picture of our SAAB and of our friends (SAABs). The 1964 SAAB Sport with number 208 that participated in the 2003 historic grand prix of Argentina is that of my friend Jorge Tomasi, and I was the co-driver. We are from Uruguay and here exist various 1964 and 1965 SAABs. Soon I will send pictures of our SAAB.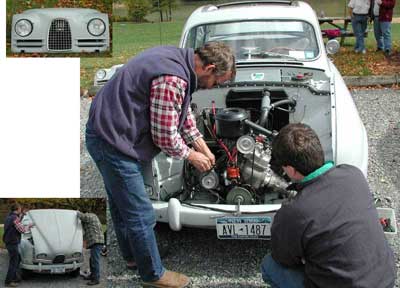 Emergency repairs on Bill Trench's '63 at SAABtoberfest 2001. With radiator mounted behind the engine, the front was very accessible for servicing!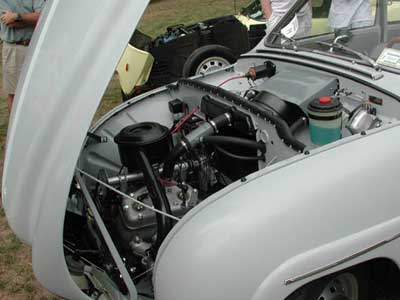 The mighty three. 3 Cylinders, two strokes. Note the radiator position between the engine and firewall. Cooling was supplied via a single overhead fanshaft.
And, under the hood of Puttyus Maximus. Note the red fanshaft. What's a Puttyus Maximus? Read on!

The story of Puttyus Maximus
(AKA: Turk on a banana peel)
Photos by Bruce Turk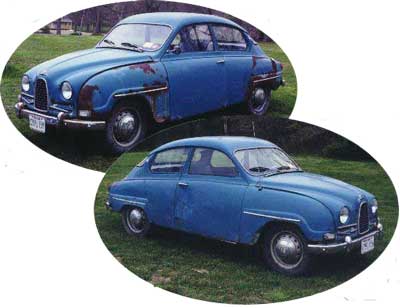 As shown as SOC 2000 Kerhonkson, NY Puttyus Maximus, a 1961 96 ran great but looked awful, provoking many a snicker.
Bruce promised not to restore this car, instead running a contest to see who would most closely guess the date of the car's future demise.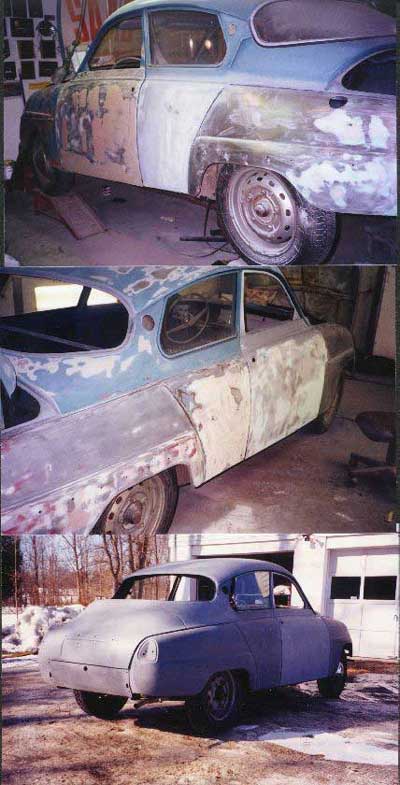 But the following January Bruce announced "I know I promised not to the restore it, but I slipped."


Here we see Puttyus in various stages of repair.
Bruce reported driving the body shell from shop to shop trying to find someone to give Puttyus a new coat of paint!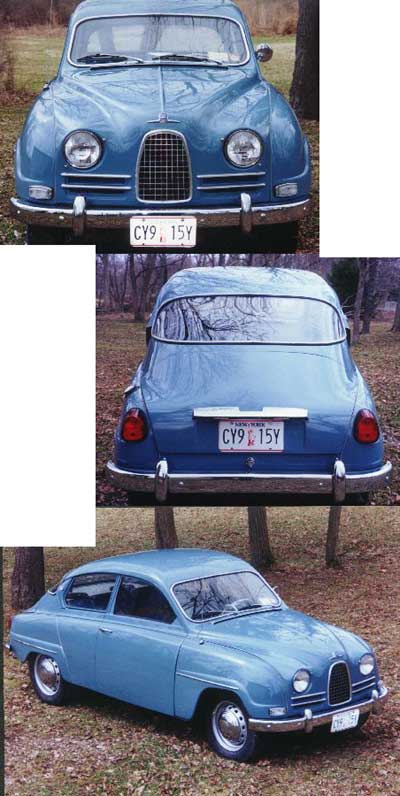 And paint it they did. Looking at the before and after pictures it's hard to imagine this is the same car.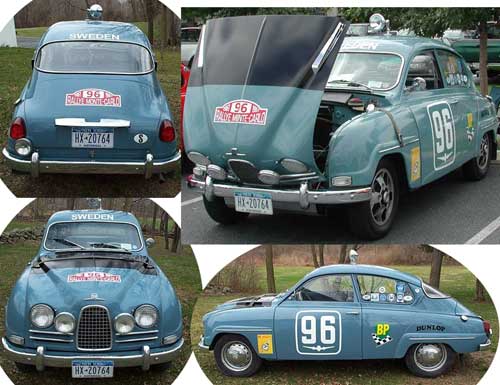 But, unable to leave well enough alone Bruce elected to transform this pedestrian 96 into an authentic 1960 rally car.


And he did.


Here is Puttyus Maximus in full rally trim.

Nice work Bruce!

The Longnose Cars 1965-1980
1965 heralded the era of the longnose cars. The grill and hood changed, the front fenders were stretched, the pedal mounting points were relocated, and the radiator was moved in front of the engine. All this to prepare for the 1967 introduction of the larger, heavier, more powerful V4 four stroke engine.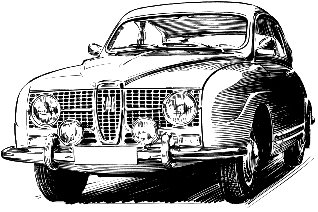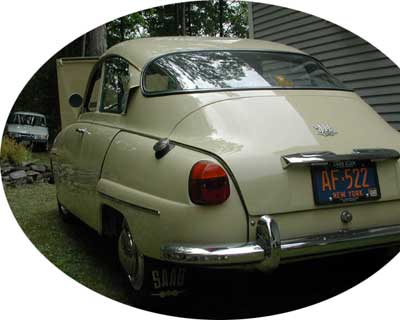 Ed Lorenz's perfect, meticulously restored '66 longnose.

They didn't look this good when they left the factory!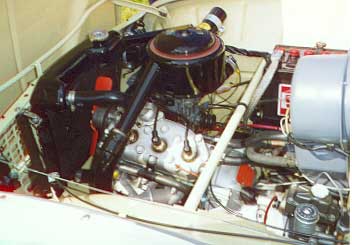 Under the hood of Ed's car. Note the radiator was moved to a more conventional location behind the grill.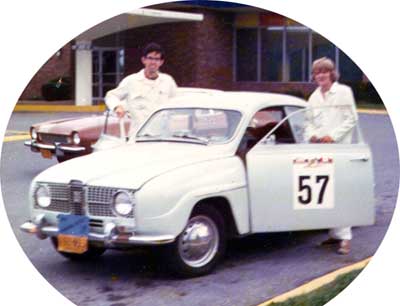 Thor's '66 96 in August '75 at the start of the MG Car Club International 1000 Rally.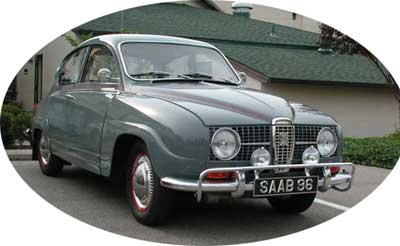 Details provided by Chip Lamb:

This 1968 96V4 deLuxe is owned only for the second time by Kerry Mull of Wernersville, PA. With just over 60,000 original and completely unrestored miles, it is also about the most well optioned 96V4 in the United States, with front and rear bumper and grille guards, Lucas 576 flamethrowers, air conditioning, AM/FM/Stereo radio, and more.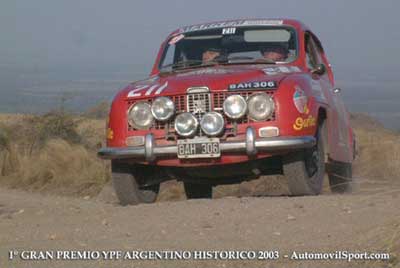 2003 Historic Grand Prix, Argentina.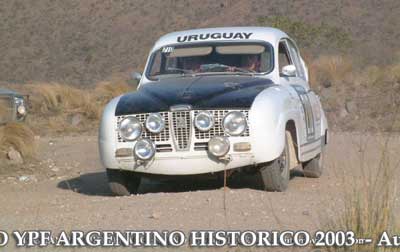 2003 Historic Grand Prix, Argentina.
At some point in the 1967 model year SAAB began to fit the 96 with the V4 engine.
The cars appeared substantially similar except for a chrome V4 emblem on the side front fender and maybe on the trunk lid.
The two strokes remained hugely popular in the United States, such that SAAB continued selling the 3 and 4 cylinder cars side by side through the 1968 model year. But alas, the handwriting was on the wall for the smelly, smokey, mighty three.

The V4 96 1967-1980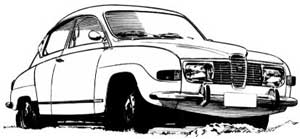 The torquey Ford Taunus based V4 engine began at 1500cc and shortly expanded to 1700cc displacement.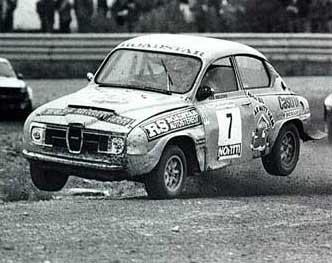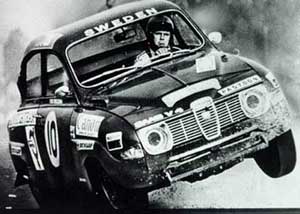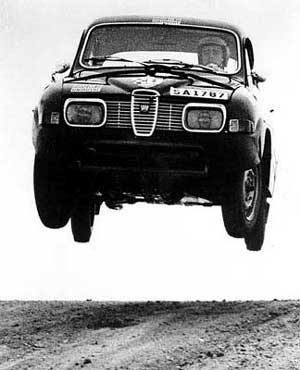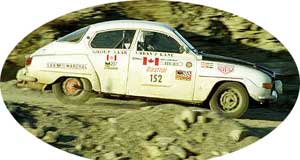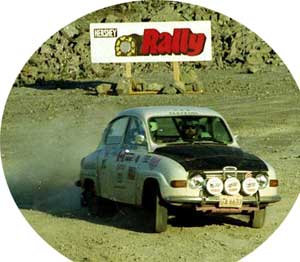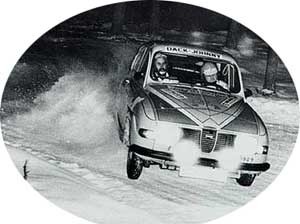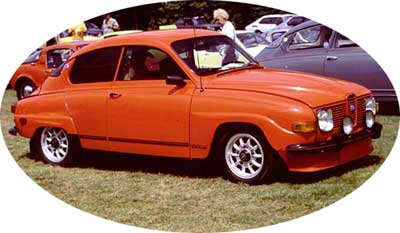 Lenny Schrader's 96 "Aero"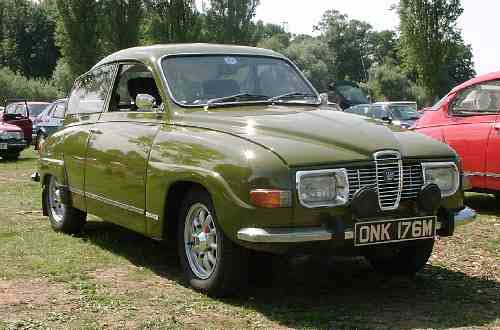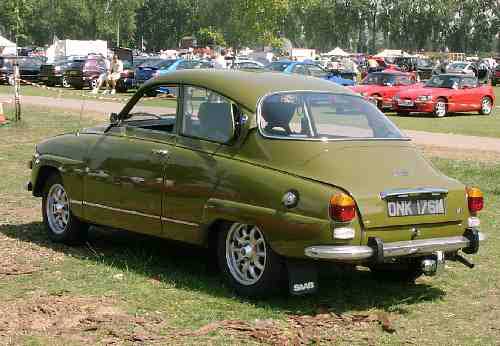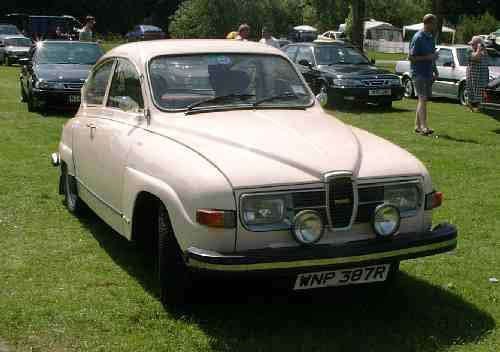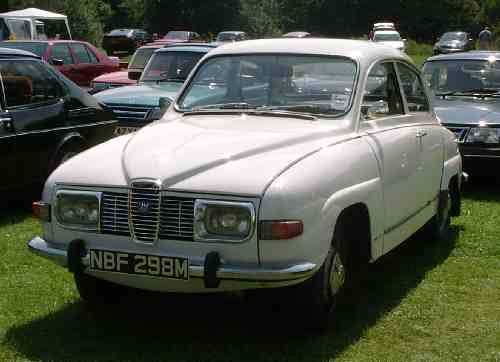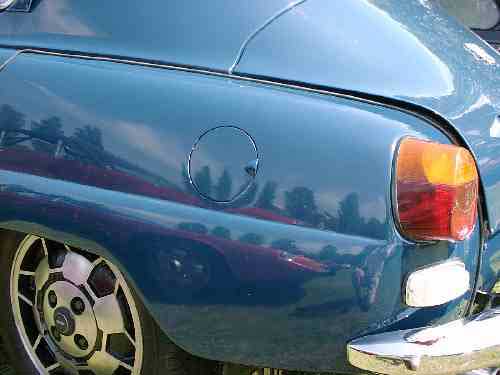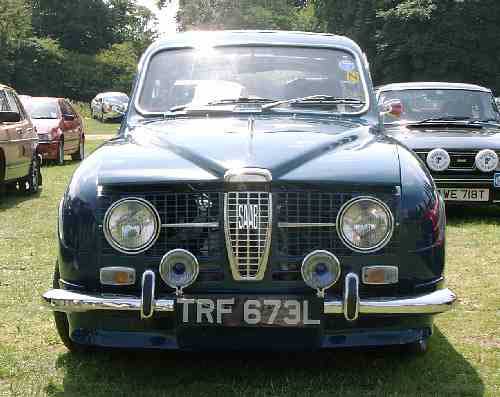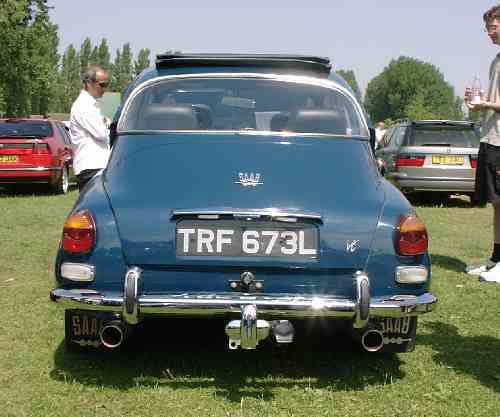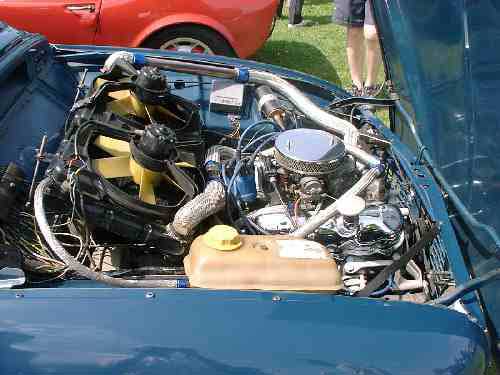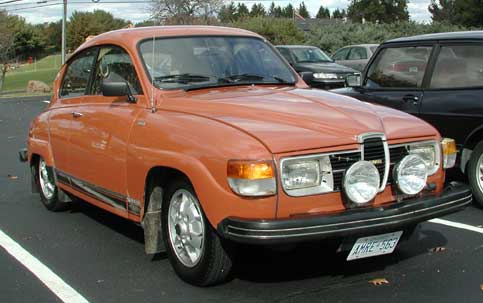 Two V4's from Mikael Hemmingsen's collection.

This one is shown in the parking lot at the Saab National Training Center in Wallingford, CT.
Here, Mikael poses with one of his rally cars, this one sporting the rare and desirable crossflow intake manifold. Shown at SOC 2002, Cininnati, Ohio. Further info from Mikael:


1970 model, factory rally car, 145 hp singleport 1850 cc Ström engine with crossflow induction, dual 45 DCOE, raised distributor, aluminum rockerarm assembly, flame rings, forged pistons, etc.. 6:35 special II 4-sp dogbox (no synchroes) with LSD. Bilstein rally shocks, cage, skidplate, 95 rear axle, chassis reinforced according to Saab S&R. Halda tripmaster, Swedish pro rally logbook. The car was only used to open a couple of rallies (as number 00 car) and has less than 3000 km since it was built.
"Bad" Rob Wagner preps for a day on the track at Putnam Park Road Course, SOC02.




The marvelous 96 custom cabriolet!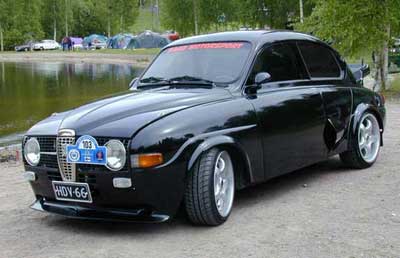 One wild V4!
Joonas Shawar wrote from Finland: Date: Sat, 31 Jul 2004 23:26:55 +0300 Subject: Saab 96 V6 twin turbo Hi! The black, wild Saab 96 on your page is not a V4. It has Ford Granada V6 and twin turbo. It makes over 300hp. I watched this from a finnish "gti -magazine" (www.gti.fi) Joonas Shawar Finland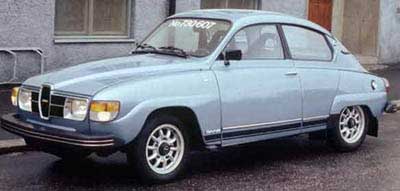 Finally, the special edition 1980 model.

The last 96 produced. The end of the line.
Note: Most of these pictures are either mine or were shot by KJQ at SOC2K with my camera.

The line drawings are from Gunnar Sjögren's "The SAAB Way" and are to the best of my knowledge not copyrighted.

Some photos I have accumulated from various other web sites over time. Where credits were shown I made no attempt to obscure them. If you see your picture here and would like a credit I will gladly comply. If you want your photo removed, just ask.