VSAAB -- The Vintage SAAB Information Source!
VSAAB Mailing List Subscription
Home Membership (soon!)
So... you'd like to go beyond browsing? Great! Since October 1997, The Vintage SAAB Mailing List has been providing an electronic forum where vintage SAAB enthusiasts can share their experiences with like-minded folks around the world. There are very few quality sources of information left on these cars -- heck, there aren't very many of the cars left either! If you truly enjoy owning, driving and working on early SAAB automobiles, it can be a great comfort to know that hundreds of your fellow enthusiasts can be found, right on the other side of your keyboard.

Definitions of what constitutes a vehicle as "vintage" are as varied and unique as SAAB owners themselves. For our purposes, The Vintage SAAB Mailing List draws the line prior to the 900 model. Model designations 92, 93, 95, 96, 97 (Sonett) and 99 are therefore considered "Vintage SAABs". Most of these cars were built before 1981.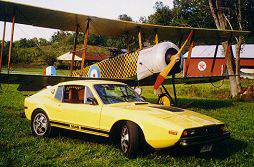 The list is moderated -- therefore, virtually every post to the list deals with the early SAAB ownership experience. Subscribers are not forced to wade through hundreds of non-relevant posts in order to find one that deals with the list topic. The result is a noise-free list that is focused and highly informative.

There are two forms of The Vintage SAAB Mailing List -- standard and digest. The standard form provides a burst of posts almost every day, with typically ten to fifteen posts in each burst. The digest form collects 25-35 posts in a compressed digest format, currently sending one about every other day. You may subscribe to either form, or both, as you like. There is no cost to subscribe to The Vintage SAAB Mailing List. It is yours to receive, utilize and contribute to. Many of our subscribers enjoy the list immensely, sending donations which help to keep the list growing and improving. I hope you'll find it equally valuable.
To subscribe to the standard form of The Vintage SAAB Mailing List, click here.
To subscribe to the digest form of this list, click here.
Enjoy!
---
| | |
| --- | --- |
| | Help keep VSAAB alive and well! Click the icon to use PayPal for your donation, and THANK YOU! |
---

All product and trade names mentioned on this site are the trademarks of their respective companies.
©VSAAB, 2001-2002 All rights reserved. VSAAB is not affiliated with SAAB Cars USA or SAAB Automobile.
"VSAAB" is a trademark of the San Diego SAAB Owner's Group, San Diego, California USA.
No recommendations are expressed or implied here.
Last modified: March 09, 2023